We're a huge fan of using technology to optimize our financial life, and the list of money saving apps just keeps growing. There are now apps that analyze your spending, help you get refunds, negotiate your bills, create a budget, and help us save on investment fees.
But with so many apps on the market, how do you pick just one or two?
To help you decide, We've made a list of my favorite financial apps of 2020. We've organized them by how they help – round-up apps, money tracking apps, cost-cutting apps, and more.
15 of the Best Money Saving Apps for 2020
Apps that round up purchases
These money saving apps help you save money by rounding up transactions from a linked card and saving the difference. For example, if you spend $4.66 on a latte, these apps can round up to $5 and put that $0.34 in savings for you.
Most of these apps also include other features like online banking and savings account options.
1. Chime
Chime was founded in 2013 as an online bank, but it's unique features have helped it grow to over 5 million users. It offers savings and checking account options, and lets you manage your accounts entirely from your smartphone.
It's free to open a checking account with Chime – they call this a Spending account. Then you can opt-in to Chime's Automatic Savings program that rounds up transactions from your Chime Visa Debit Card, and the extra is deposited into your savings account.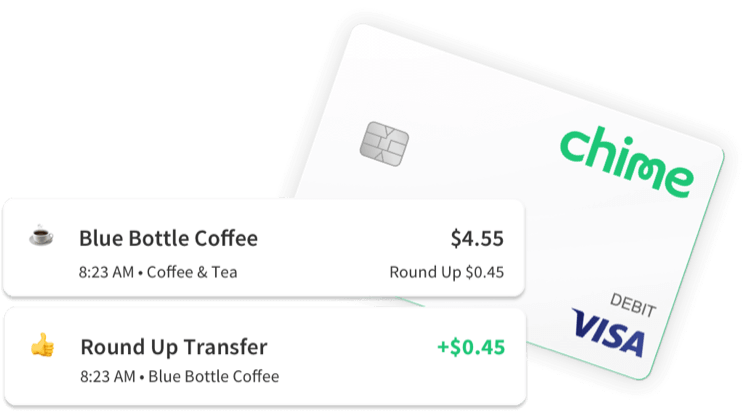 Another popular feature is Early Direct Deposit, which lets you access your funds as soon as your employer makes them available. You'll have to set up direct deposit from your employer to Chime to use this free feature.
Chime only charges customers when they get cash from an over the counter withdrawal or at an out of network ATM – Chime has over 38,000 fee-free ATMs. This withdrawal fee is $2.50.
But the rest of the fees you'd find at a traditional bank have been virtually eliminated. There are no overdraft fees, monthly service fees, minimum balance fees, transaction fees, or card replacement fees.
Chime can get rid of fees because they're an online bank and lack the same overhead costs you'd find at a traditional brick-and-mortar bank. They also make money from interchange fees, which are processing fees charged to merchants, not you. start rounding up with chime
2. Simple
Founded in 2009, Simple is another online bank that offers round-ups so you can turn your banking app into a money saving app. And one of the things I really like about Simple is that your round-ups are deposited into a high-interest online account – up to 1.20%
Simple also lets you create and save for goals using round-ups and your high yield savings account. Here's how it works:
Set your goal, amount to save, and date to save by
Use automatic transfers to move money into your goal account
Turn on Round-Up Rules and let Simple round transaction up to the next dollar amount, and transfer funds once your round-up "change" hits $5
The simple app keeps track of your goal for you, but you can also categorize transactions to keep track of how you've spent your goal money.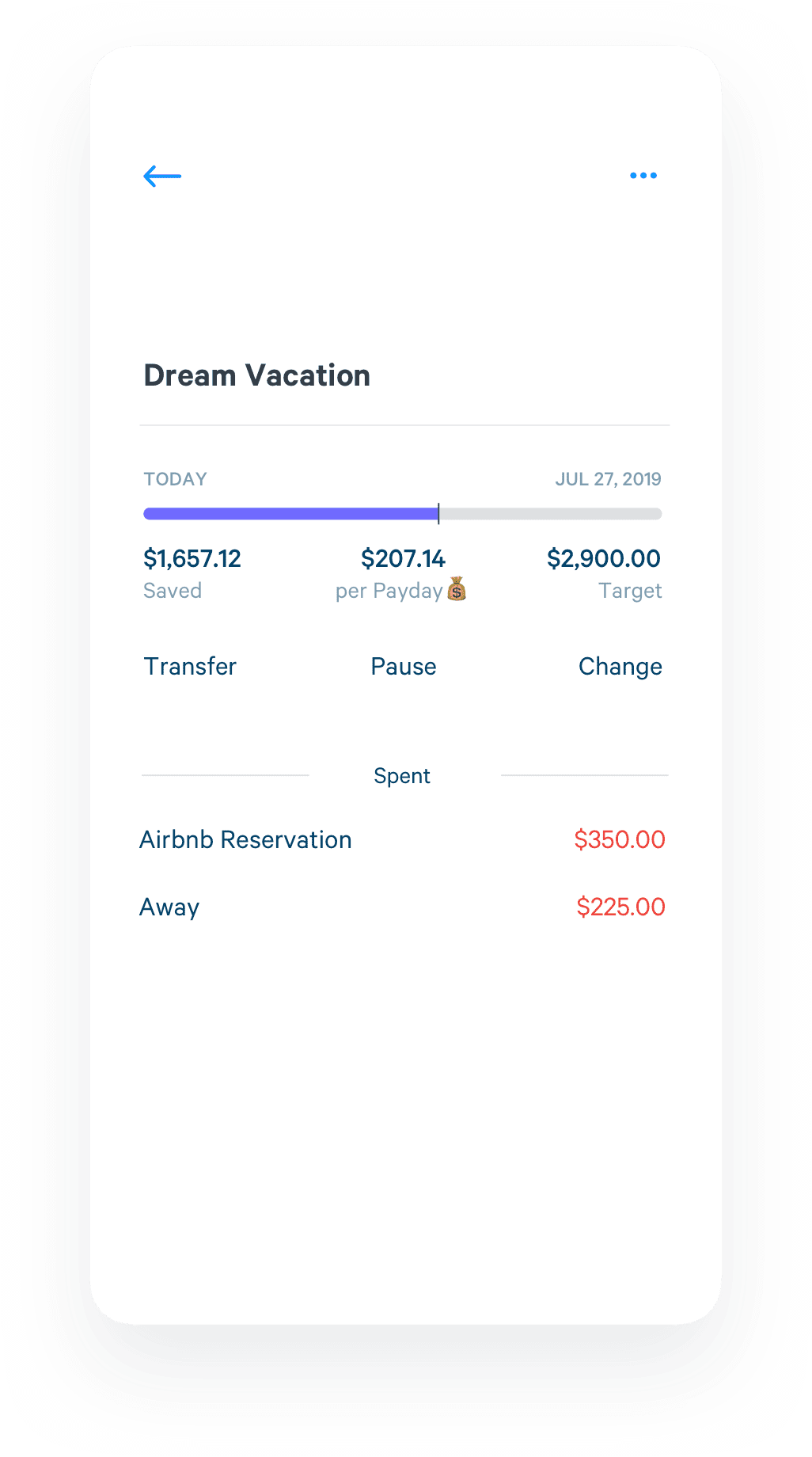 Simple also tells you a Safe-to-Spend amount. This is the amount of money you can spend after you've put money towards your goals and recurring expenses. Simple knows how much you're spending because you also use the app to budget and track your expenses.
Like most online banks, it's free to open an account with Simple and there are very minimal fees. It costs $5 to order a book of 25 checks, there may be a fee when you use an out-of-network ATM, and using your card internationally costs up to 1% of the transaction amount. Simple keeps fees down by reduced overhead costs and making money from interchange fees. open an account with simple
Apps that cut your costs
Have you lost track of what services you're subscribed to, or have you wanted to reduce the rates on your cell or internet bills? These money saving apps work by negotiating for lower rates on some of your bills and canceling unused services. But these savings apps have also added features to take a more holistic approach to money management.
3. Trim
Founded in 2015, the Trim app has already saved users a combined $40 million. It's part personal assistant, part savings app, and it shines by actively helping you reduce your spending. It does that with a growing list of features, including:
Bill Negotiation: The Trim app will negotiate for lower rates on your cable, internet, medical, and phone bills. Trim charges 33% of what you save in the first year.
Find and cancel unwanted subscriptions: Trim recognizes which transactions are recurring and reminds you about them in case you have any unwanted or forgotten about subscriptions.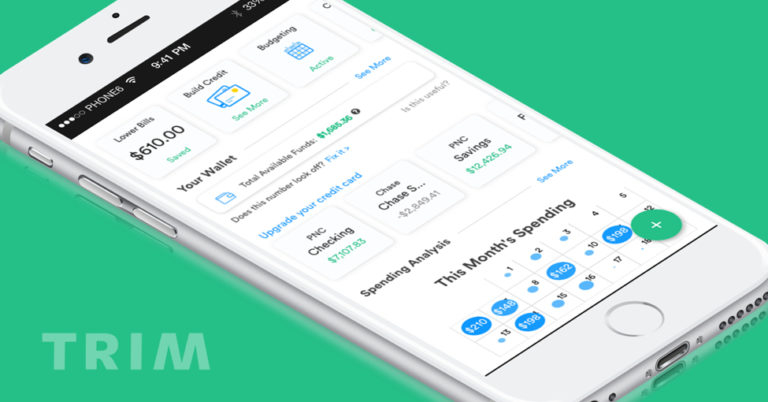 Trim also has features to help you save, including Simple Savings, which is a high-yield savings account that gives you a 4% annualized bonus on your first $2,000. There's also Trim's Debt Payoff feature that negotiates with your bank and credit card providers for lower interest rates, waive charges, and to get refunds on unfair bank fees.
Trim has both free and paid options. A free account gives you a personal finance dashboard, spending alerts, and finds and cancels subscriptions.
Trim Premium comes with Bill Negotiation, Debt Payoff, and Simple Savings – it's $99/year. Premium also comes with unlimited email access to a financial planner to answer any of your questions.
4. Truebill
Founded in 2015, Truebill is similar to Trim in that it helps you cancel unwanted subscriptions and lower your bills. What's interesting about Truebill is that it's gone from being a pretty niche financial app to having a full list of features that can help you gain control of your money.
Here's what Truebill has to offer:
Managing subscription services: You connect your bank accounts and Truebill analyzes your spending to identify subscriptions and puts them on your calendar. You also have the option to let Truebill cancel the ones you aren't using.
Bill negotiation: Let Truebill negotiate for lower rates on telecom services like cable, internet, and cell service – the app charges 40% of what you save in the first year.
Outage refunds: Truebill can help you get money back if there are cell or internet outages, but it does take 40% of any successful statement credit.
Tracks your spending: The app looks at what you're spending from any linked accounts and categorizes your transactions to show you where your money is going
Smart Savings: This is Truebill's savings account feature, and you can set and fund goals in the app.
Budgeting: Using linked accounts, Truebill creates an estimated budget that you can go in and customize. One cool part is that you can see how much you have left to spend in each budget category.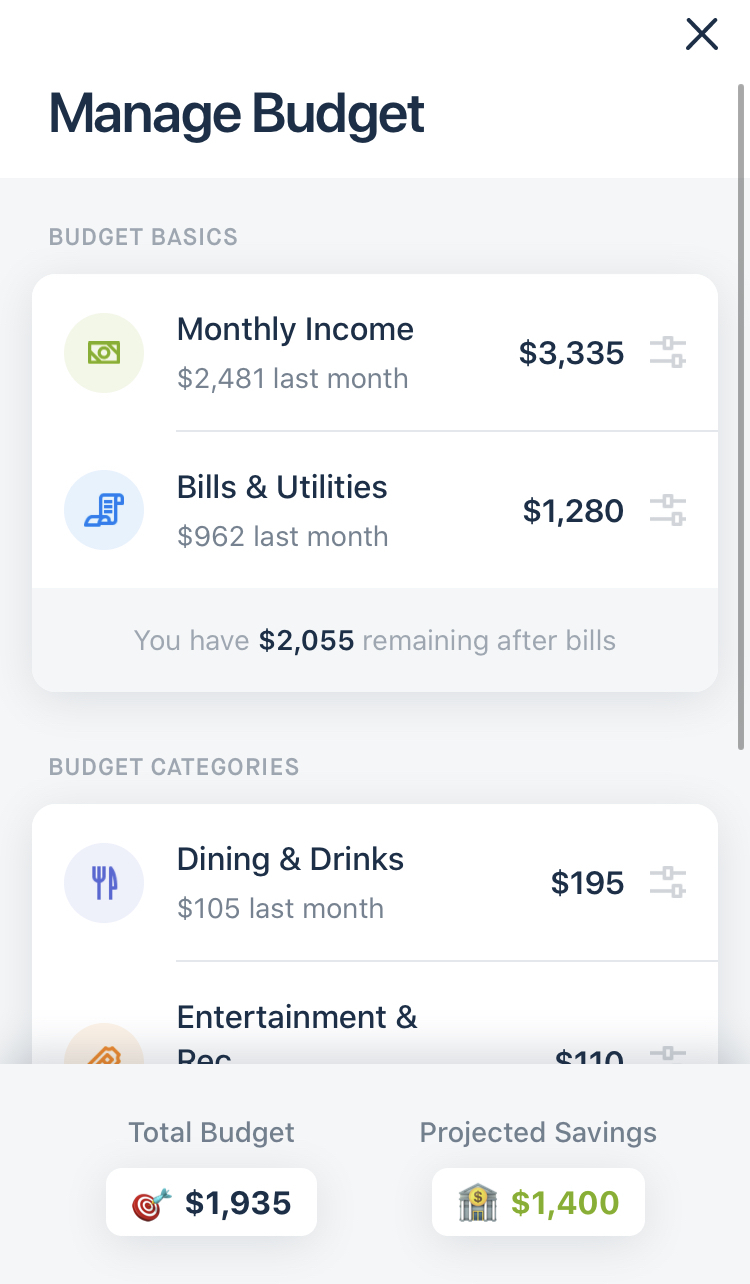 It's free to sign up for Truebill, but premium services – balance syncing, custom budget categories, unlimited budgets, premium chat, and bank fee refunds – cost anywhere from $3-$12/month or annualized rates at $36 or $48/year. Truebill lets you choose your pricing.
Money saving apps for shopping
Because you gotta spend money eventually, these apps will help you earn money back when you spend money.
5. Ibotta
Ibotta is one of the most popular money saving shopping apps out there. It has over 35 million users and has paid over $680,000,000 cashback to its users. The cashback part is important because unlike some other cashback apps, Ibotta doesn't pay in points – you earn cash via PayPal or Venmo.
This app is 100% free to use, and it's legit. Ibotta can earn you money back on purchases because the app has partnered with different brands and retailers to promote products. Ibotta makes a little money when you buy one of those products and passes some of those earnings on to you.
There are two main ways to earn money back with Ibotta:
Online shopping: Use the mobile app or browser extension and shop at online retailers like Target, Walgreens, Walmart, Best Buy, and more.
In-store shopping: You can pay through the Ibotta mobile app, link loyalty accounts, and submit receipts for cashback.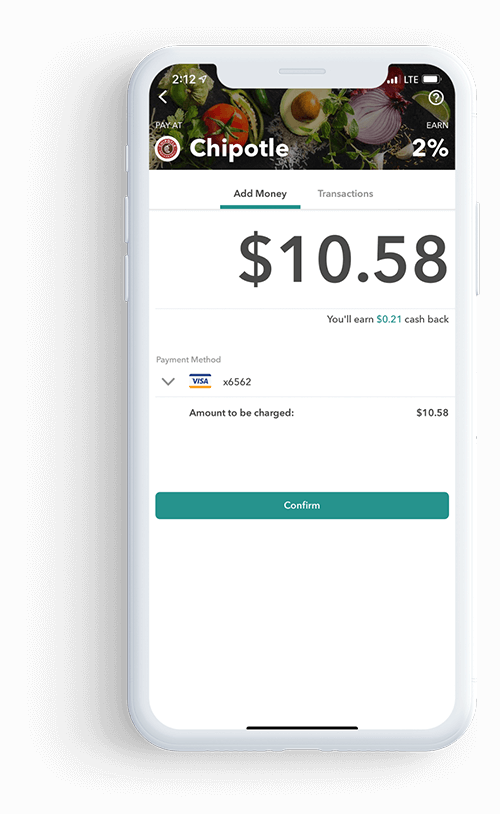 You can also refer friends to the app and earn $5 when a friend signs up and starts redeeming offers.
6. Honey
Honey was created in 2012 and has a list of features that help users save an average of $126 per year. The premise of this app is that it helps you find the lowest possible price for something online by applying coupons for you.
Here are Honey's tools to help you save money:
Savings finder: This is the signature feature where Honey searches for the best promo codes and instantly applies them to your purchases.
Price History: Just what it sounds like – you can see how the price of an item has fluctuated so you can time your purchases to coincide with trends.
Droplist: You can add items to your droplist and Honey will alert you when something on your list lowers in price.
Amazon best price: This feature finds the seller with the lowest price on Amazon.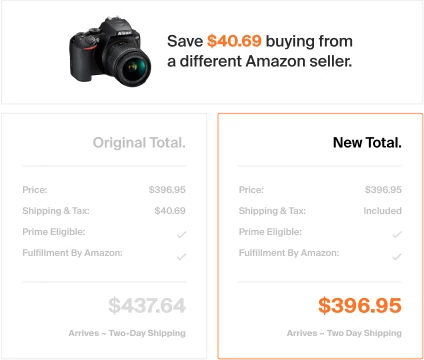 Honey is free to use and you can download the Chrome browser extension to start letting the app find deals and apply coupons. start saving with honey
7. Paribus
Paribus is a money saving app that was founded in 2014 and gives money back to users when the price drops on an item that they've already purchased. For example: If you order a new vacuum online from Target for $250, and in two weeks the price drops to $210, Paribus will get you the $40 difference.
The app uses technology called the Paribus Receipt Fetcher which scans your emails to see if you've made any online purchases. It looks for receipts, dates, merchant names, and prices. It uses algorithms to scan your emails for very specific information – people from Paribus aren't reading your emails.
If Paribus finds a price reduction, they use your email to contact the merchant and get your refund. That goes directly back to your account, and Paribus does not process any credit card or bank information.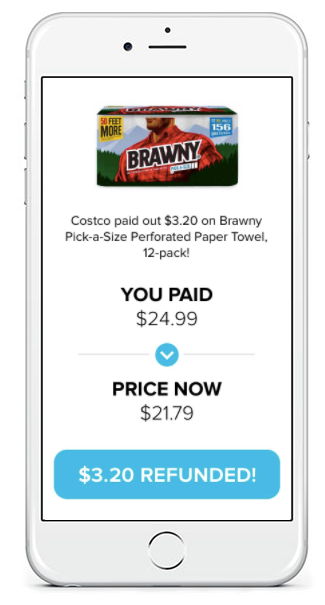 This service is 100% free to use – Paribus used to take a percentage of what you earned, but after they were acquired by Capital One, the service is now completely free. Paribus now makes its money through advertisements.
Automated savings apps
This section is dedicated to apps that automatically save money for you. These money saving apps all have unique features that make the saving process easy and mindless.
8. Digit
Digit was created in 2012, and it's helped users put over $1 billion in the bank. The main purpose of Digit is to analyze your spending and then automatically save the perfect amount for you.
The app uses an algorithm to analyze spending on your linked accounts to look for four things: checking account balance, upcoming income, upcoming bills, and recent spending. Digit uses that information to skim a little bit of money off the top and deposit it in your Digit account.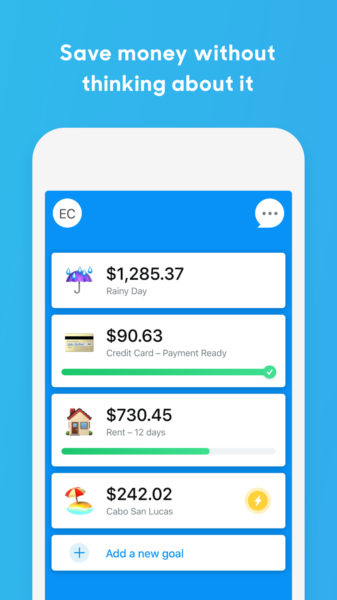 You can set goals in the app and allocate your savings towards different goals. You can also use those goals to automate extra or supplemental debt payments. This can help you pay off your debt faster.
Digit also gives you a 1% annualized saving bonus if you're able to save for three consecutive months – you earn a protracted amount based on your average daily balance. There's also a referral program that pays you $5 when you refer a friend.
The app is free for the first 30 days, and then it's $5 a month after that.
9. Qapital
The Qapital app was launched in 2013 and uses behavioral economics to help users save more money. You can see that approach in Qapital's ITTT (if this, then this) triggers.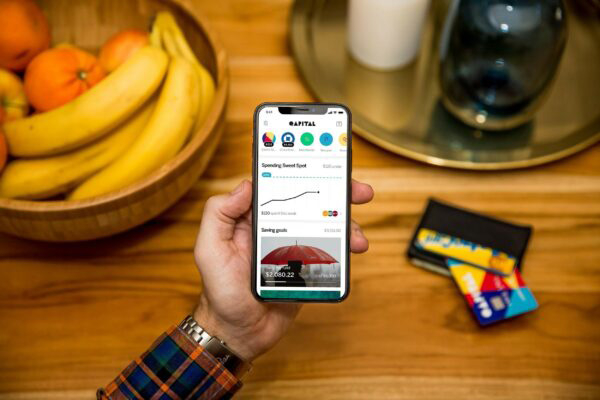 You set the triggers and tell Qapital how much money to move into savings when you set off one of the triggers. For example, you can tell Qapital to save $5 every time you update your status on Facebook. Here are some more triggers:
Every time you take an Uber
When the Space Station passes over your location
Every time the president tweets
Automatically save money when you complete a Strava activity
Save when you like a video on YouTube
Qapital has even more rules that you can turn on and off to build your savings, including round-ups and payday rules that deposit money in savings when you get paid.
There is a three-tiered price structure running from $3-$12/month and give access to unlimited savings goals, a checking account, personal investment account, webinars, and bonus features.
However, Qapital is free to use for the first 30 days.
10. Twine
Twine was founded in 2018 by life insurance and financial services giant John Hancock, and is an automatic savings app that helps couples to save together.
You and a partner can set any number of financial goals – downpayment for a house, vacation, emergency fund, etc. – give that goal a timeline, and set up recurring deposits until you've hit your goal.
Twine gives you two different kinds of accounts to save in:
Cash savings: This is completely free, and Twine doesn't charge any fees for withdrawing or depositing money.
Invested savings: You'll need at least $5 in the account to start investing, and Twine charges an annual fee of 0.06% of invested assets, charged monthly.
For invested savings, Twine recommends an investment account for you based on when you want to reach your goals, and then choose one of three different portfolios, each made up of a diverse set of ETFs.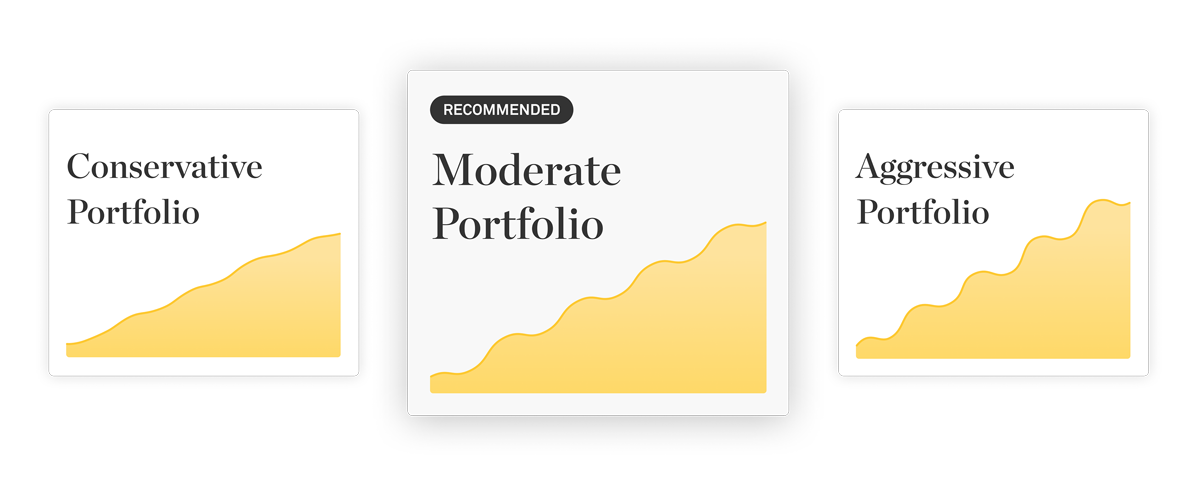 Money saving apps that invest your money
There's some overlap in money saving apps that automatically save and invest, but the following apps shine with micro-investing functions that break down some of the barriers to traditional investing. That means these apps give you a user-friendly experience that lets you invest your spare change, and then help you decide where to put your money.
11. Acorns
Founded in 2012, Acorns has become one of the most popular micro-investing apps, and now has over 7 million users. Acorns takes a Robo-advisor approach by helping you select one of five different portfolio options so that you have an asset allocation that matches your risk tolerance.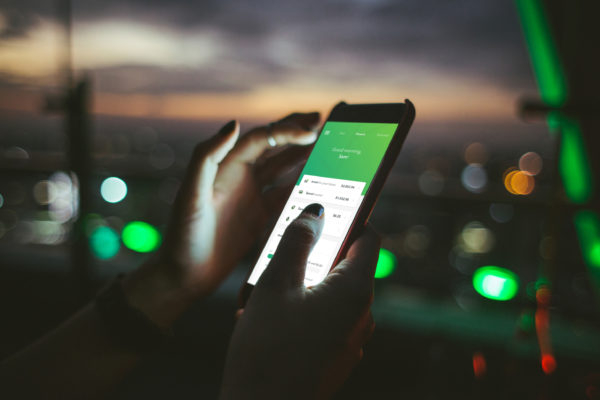 Acorns is probably most well-known for offering Round-Ups, which round up transactions from a linked credit or debit card to the next dollar amount, and then invest the difference.
You can apply Multipliers to your Round-Ups and invest even more. For example: Spend $38.73 at the grocery store, and Acorns will round up to $39 and invest $0.27. If you apply a 2x multiplier, you can invest $0.54, and with a 10x multiplier, you can invest $2.70.
Acorns also lets you set up recurring deposits, and there is a Found Money feature that lets you earn bonus cash when you shop with one of their partner brands.
Acorns recently revised their pricing – it's $1/month to invest in a personal investment account or $3/month to also invest for retirement and add a checking account option.
12. Stash
Stash is a money saving app that focuses on teaching new investors how to get started in the stock market. It was launched in 2015 and now has over 4 million users.
What makes Stash different from Acorns is that Stash gives investors the option to choose what they invest in, from which ETFs (exchange-traded funds) and stocks.
You can invest in pre-selected portfolios based on your risk tolerance, invest in individual stocks (yes, Stash lets you purchase micro shares of single stocks), or in ETFs that have been rebranded to appeal to your values and interests. Here are some examples of ETFs you can find on Stash:
American Innovators (U.S. based tech companies) is the Stash name for Vanguard Information Technology ETF
Women Who Lead (female-focused companies, leadership, and charitable work) is the Stash name for SPDR SSGA Gender Diversity Index ETF
All That Glitters (precious metals) is the Stash name for Aberdeen Standard Physical Precious Metals Basket Shares ETF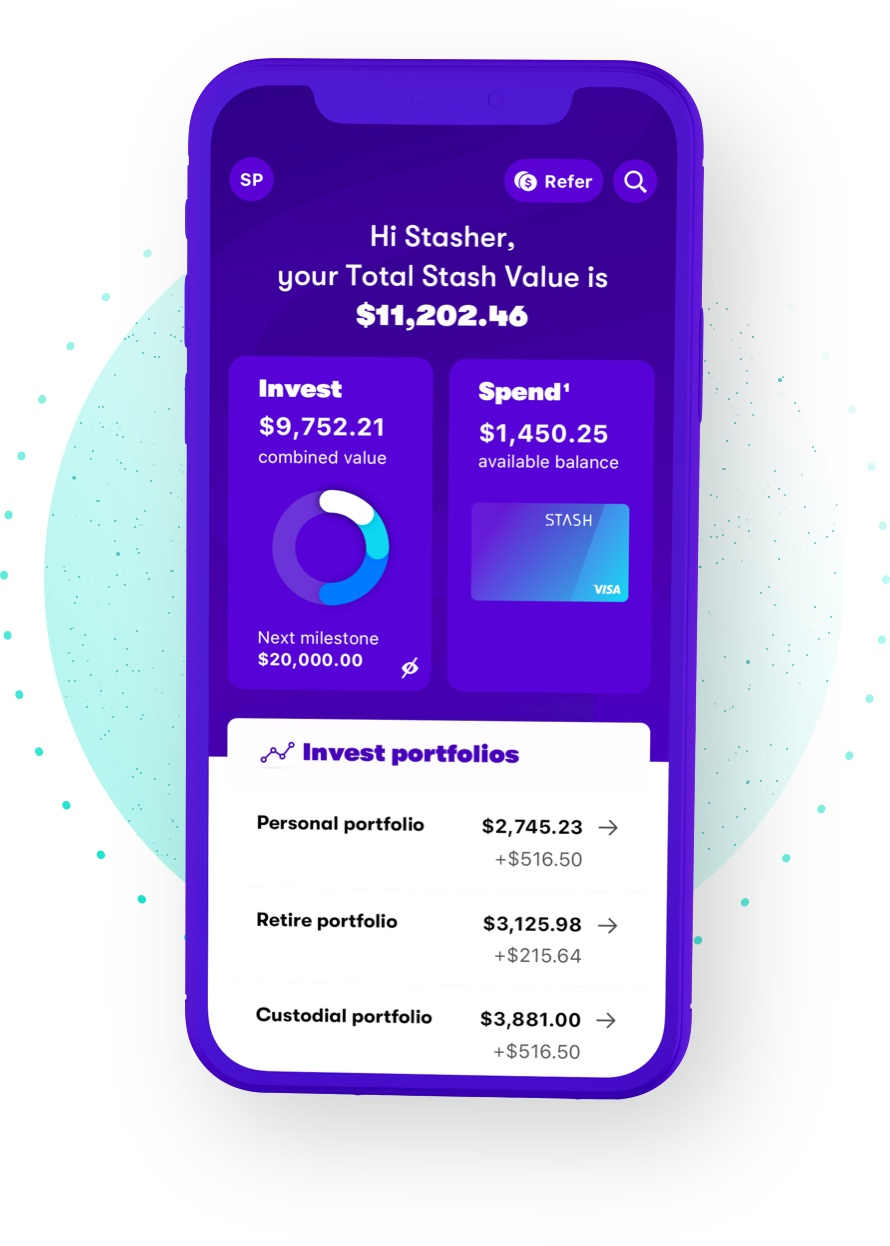 Stash offers personal investment accounts, tax-advantaged retirement accounts, custodial accounts, and a checking account option. Prices range from $1 to $9/month. start stashing
Money tracking apps
Now that you've got all of these money saving apps helping address your spending and saving issues, let's talk about the apps that will help you track everything.
13. Mint
There's a good chance you've heard of Mint before – it was founded in 2006 and has well over 20 million users. This app wants to help take control of your money by putting your entire financial life in one place.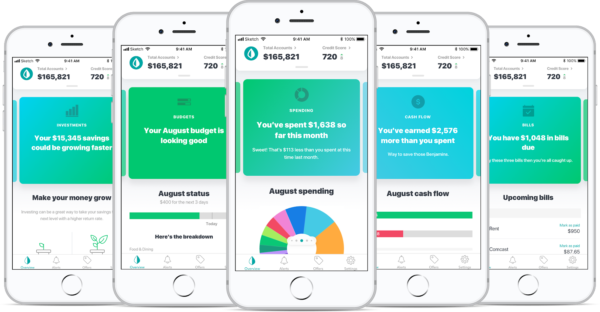 Mint has a full list of features to help you see your overall financial picture, including:
Bill payment tracker: Keeps all of your bills organized in one place, and allows you to set payment reminders
Budgeting: Tracks spending patterns, creates a budget using customizable categories, and sets budget goals
Free credit score: Get regular updates to your credit score from TransUnion
Alerts: Receive alerts for bills to be paid, ATM fees, low funds, and if you're going over budget
Investments: Simple portfolio tracking and catch hidden fees
This app is entirely free to sign up for and use, but Mint makes money on advertisements that are listed as "ways to save." These are offers for credit cards, life insurance, mortgage companies, and more.
14. Personal Capital
Personal Capital was created in 2009, and it's the free net worth and investment tracking tool that my wife and I have been using for the past few years. It has a savings planner, budgeting, and cash flow analysis, but its robust investment tracking tools are what really stand out.
There is an Investment Check-Up tool that keeps track of your investments and the risk and return of each. The Fee Analyzer looks for hidden fees in your investment accounts, which can save you a lot of money over time.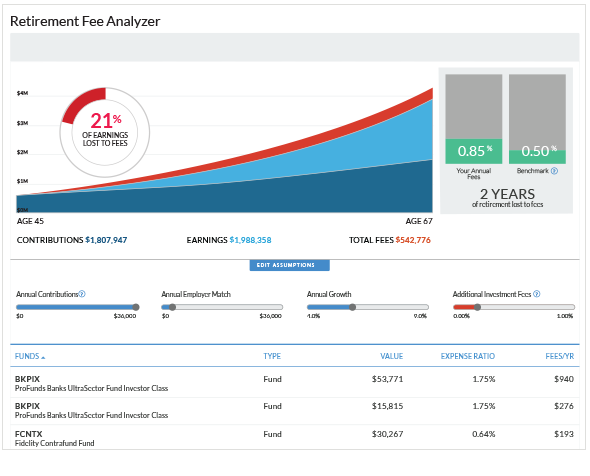 And the Retirement Planner shows you whether or not you're on track for retirement and lets you play out different scenarios –like having kids or buying a house – that may affect your progress.
All of those features are 100% free to use, but Personal Capital also offers paid wealth management services for people who have at least $100k invested. Those services cost 0.49%-0.89% of invested assets.
15. PocketGuard
Founded in 2015, PocketGuard was created to answer the question: Can I really afford this?
Here's how this money saving app works: you link your accounts to the PocketGuard and the app analyzes your spending, upcoming expenses, and your goals to see how much money you have left to spend.
You can also use the app to keep track of all your financial accounts – banks, credit cards, loans, and investments.
PocketGuard has a free and paid option, and PocketGuard Plus costs $3.99/month or $34.99 annually. You get even more budgeting categories, more goal setting options, edit and export transactions, track cash, and manage ATM withdrawals.
The final word on the best money saving apps of 2020
Technology has made it easier than ever to track your spending and start saving more money, and that's really cool. But the truth is that these are just tools. You're the one who is responsible for using them and taking what you learn to optimize your financial life.
---
Source: https://millennialmoneyman.com/money-saving-apps/#digit
Photo by Kaboompics .com from Pexels